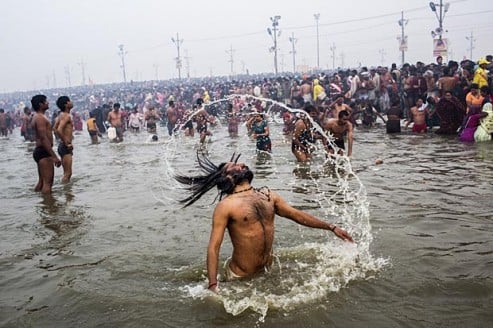 What would compel an otherwise rational person to dive head-first into a cesspool filled with shit, piss, garbage, and bacteria?
Why — religion, of course!
On PBS tonight, there was a documentary program about the Ganges, a.k.a. the Ganga River, located in India.  This is a vast tributary of life (and potentially death) for hundreds of millions of people, living in both Bangladesh and India.  It's also one of the most polluted rivers in the world, a breeding ground for sickness and disease — not just to humans, but animals, as well.  And it's that way almost entirely because of indifference from religion, and specifically Hinduism, which continues to promote the loony notion that bathing in feces-encrusted waters somehow makes gullible believers "spiritually" whole again.
[Palm slapping forehead]
Which brings us to the question:  Why do we revere such absurd, not to mention dangerous, religious practices?
Read More