The Black Sheep has been getting rave reviews, so I had to pay this cozy neighborhood restaurant a visit.  Marieta and I dined together on a busy Friday evening and were lucky to be seated at the last table available before the inevitable wait list began.
There are many things to love about The Black Sheep.  There are also a few disappointments, admittedly more the result of my personal biases and clashes in tastes, rather than quality or service.  In other words, if you're into the trendy nouveau restaurant scene, you'll probably like it more than I did.
First, the good things:  The Black Sheep offers a marvelous variety of food and drink — from specialty cocktails ($9-12) to tasty appetizers ($5-16) to plenty of entrees with a unique flair ($15-25).  There's at least one item of beef, chicken, pork, and seafood to satisfy most tastes.  I listed the price ranges because, as one can see, this is a surprisingly affordable place to dine out when compared with other contemporaries in this class.
Advertised as Vietnamese-American, this is the type of snooty restaurant one might expect on the Las Vegas Strip, at double the prices.  However, The Black Sheep is far friendlier.  It's tightly nestled in the corner of an L-shaped storefront and conveys much more of a local's feel, the perfect after-work meeting place, especially singles from the crowd we witnessed.  On the night we dined, the clientele was almost exclusively comprised of younger professionals.
Marieta ordered the Slow-Cooked Short Rib with Yucca Gnocchi on a bed of Summer Squash Ratatouille.  Her dish was stellar (I devoured a third of hers), and was a relative steal at just $20.  The short rib was so tender, no knife was needed.  The medley of beef, gnocchi, and ratatouille was divine.
My order consisted of something more simple — Rainbow Trout in a tasty vinegar sauce.  I'm a Rainbow Trout fanatic, so wasn't quite sure this would match my palate.  However, the chef grilled the trout to absolute perfection, conveniently deboned, but also served with full head and tail.  My only complaint about the food was my jasmine rice accompaniment was a bit too sticky and clumped badly.  Still, I didn't come here for the rice, so this was only a minor annoyance.  Also of Note:  The portions are not large.  This is not a place to go if you savor a huge meal.  Think of what you might expect in some fashionable Beverly Hills bistro, sans the attitude.
The Bad:  What was annoying for me was the ambiance, which had several shortcomings.  To be fair, The Black Sheep is a new hit spot, so it's to be expected that the restaurant is already way too small for the crowds.  That's not a knock on the establishment, at all.  Yet, while the culinary treats are ample, physical comforts are nonexistent.
For one thing, the spartan tables and chairs, dark concrete floor, and industrial loft look is certainly trendy, but also not the greatest atmosphere for a first date or casual conversation among friends.  The restaurant is very loud, made worse by a sub-standard sound system playing music that's indecipherable from the ambiance of 75 people within seemingly talking all at once.  One of my major pet peeves is having to strain to hear the person next to me who's talking in a normal tone of voice, even though my table mate was just 3-feet away.  Many people obviously aren't bothered at all by this.  I don't like it.
Another negative was the lighting, where The Black Sheep fails badly.  Many Las Vegas restaurants are at a comparative disadvantage with dining establishments in other parts of the country.  That's because the sun here is often hot and blazing.  While there's nothing The Black Sheep can do much about 105-degree afternoons, they should do something about the front windows, which blasts in a headache-inducing glare.  Since the restaurant is open 5-11 nightly (closed for lunch), blinding light is a big problem for diners who come in during the first few hours.  The rest of the place is dark, while sun rays peer through the front like it's a midnight drug bust.  Sure, a small takeout joint can get away with this annoyance.  An upscale restaurant of this quality cannot.  Something needs to be done about those windows.  At least — pull the drapes.  No one wants to look out into a parking lot, anyway.
Here's a stock photo (not taken during my visit) which shows the layout.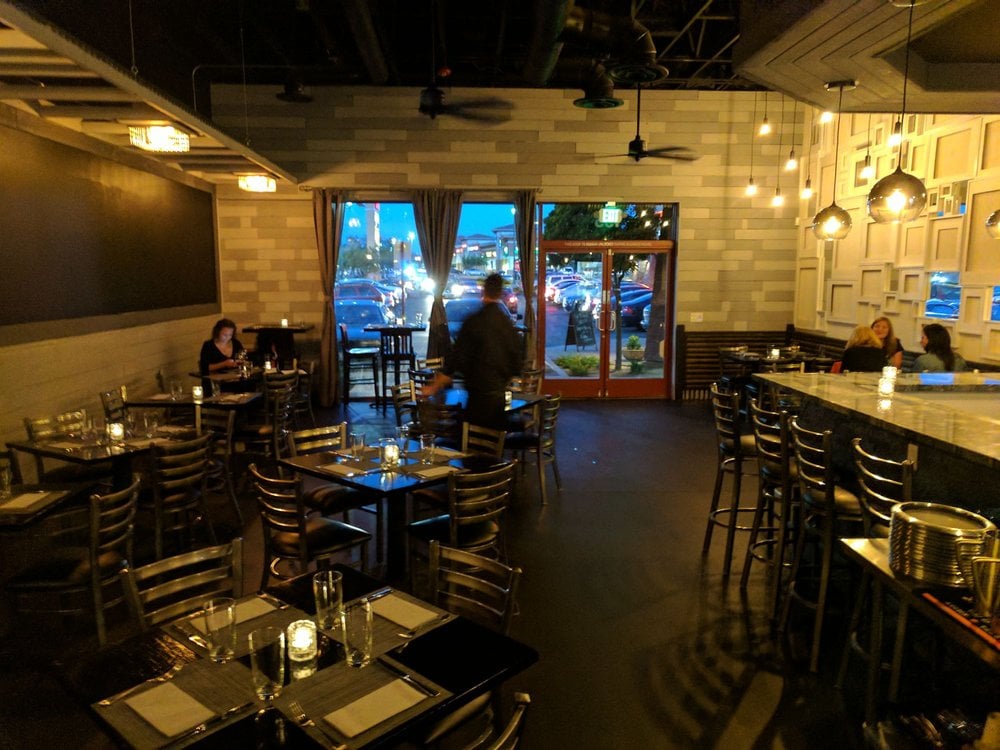 The service was excellent.  Our host, waitress, and busboy all seemed to know a great deal about the restaurant, even though they'd been open only two months (at the time of this review).  Staff were on top of every need and checked on us just enough to make sure we were happy without the constant hassle of interruption so often experienced at other places.  Remarkably, our dinners came out in less than ten minutes.  Not sure if this is routine, but the kitchen here can put out food quick — if needed.  A somewhat limited main menu of about a dozen entrees probably speeds things up for the back of the house.  Moreover, a smaller restaurant like this will rely on turnover in order to survive, so the quick service might be part of the standard plan.
So, I credit The Black Sheep on their affordable prices, excellent food, originality, and fast and efficient service.  However, I slightly downgrade them for some problems with the decor and customer comforts.
Also note — Early Happy Hour runs from 5-6 pm with $5 wine, $4 craft beers, and $1 fresh oysters on the half shell.  There's also a late 10-11 pm Happy Hour for night owls.
Overall, this was a positive experience.  I recommend The Black Sheep and give them a solid 7/10.
Based on the popularity of what's become one of the hottest new spots in Las Vegas, reservations are strongly recommended.
VISIT THE BLACK SHEEP WEBSITE HERE
Read More