Elton John's preeminence as a flamboyant rock n' roll troubadour is deeply grooved into our vinyl consciousness.
His mesmerizing 1970's songbook is arguably the most astounding output of any solo artist over the past 50 years.  While his gold records revolved at 33 rpm, his fame spiraled at 78 speed.  His eccentricities, outlandish stage costumes, a sham marriage when he tried to play it straight, and hypersexuality were fodder for ceaseless gossip and scandal.
His musical career soared to extraordinary highs, packed sports stadiums, and survived craterous lows.  His celebrity remains indisputably global, gender neutral, cross-generational, and yet all of his music is crassly commercial.  To millions of fans and even those who aren't, but can't help but hum the harmonies to his hit songs, Elton John isn't just a stylish trendsetter.  He's painfully honest, wallowed in imperfection.
"I have taken every drug; I have fucked everything that moves," Elton John once told a startled interviewer.
So given these realities, a well-documented public life, combined with Elton's John's unapologetic openness about his private ordeals, how is Rocketman, the purported collaborative movie biography, such a misfire?
There's no excuse for this.  None.  I should have loved Rocketman.  Ostensibly,  I'm the target audience.  This movie was custom-made for devoted fans who grew up with his music.  Consider Goodbye Yellow Brick Road, Elton John's 1973 double album masterpiece, was one of the first records I ever purchased with allowance money.  I recall the excitement, hastily unwrapping the new album jacket encased in cellophane, the smell of the record, carefully placing vinyl discs upon the family turntable so as not to scratch it, hoisting the needle, sprawling myself across the shag carpet, and then following along with liner notes penned by lyricist Bernie Taupin as Elton John's music took me to imaginary places that seemed otherworldly.
How could they possibly blow this?
There are so many things annoying about this movie, I don't know where to begin.  So, let's start at the beginning.
In the opening scene, Elton John enters rehab.  He's been on a steady decline for a decade.  He joins a group therapy session at what looks to be an AA meeting.  Inexplicably, he's dressed in full stage regalia — looking something like a giant insect that swallowed a court jester.  Yet no one in the group seems to think it's a big deal that Elton John, one of the most famous people in the world at the time, is sitting there, about to tell us his life story.  Are these people alive?  The rest of the addicts just sit there the whole time like they're listening to Joe the Plumber apologize about drinking way too many beers at the company picnic.
So, the next two hours of therapy are utterly dominated by this self-centered superstar obsessing about his life, causing me to wonder — hey, what about the other poor souls who have their own addiction problems?  Don't they get some talk time?  Do they have to sit here for two hours and listen to this guy babble?  I guess so  — because it's Elton John.
Snippets of Elton John's many hits appear throughout the film, although he sings none of them.  More on that creative oddity in just a moment.  Most of us will recognize every song.  There's no filler, nor experimentation here.  We get a predictable stream of best sellers.  The movie soundtrack has all the originality of a "Greatest Hits" compilation.
The songs intend to stitch together some hopelessly disjoined biographical timeline when none actually exists.  To illustrate the awkward misuse of music, when Elton John launches into his lengthy confessional by reminiscing about his early childhood growing up as Reginald Dwight (his real name), a flashback transposes us into a 1950s street dance overlapped with The Bitch is Back, off the 1974 album Caribou.  How did this scene make it past the first draft?  Why is a 7-year-old boy from Middlesex barking out The Bitch is Back?  That was the first instant I leaned forward in my theater seat and went — "huh?"
That bizarre opener pretty much obliterated any appreciation of artistic expression.  Elton John's hits are recklessly scattered all over the storyline.  Wherever any lyric might coincidentally connect to a real event in his life, it's exploited to the max, though in no way reflected what was going on at the time.  For instance, we hear the early songs, mostly composed when Elton John had no discernable demons nor any destructive bad habits, which are misused contextually so as to imply that each song was a cry for help, the emotional intensity magnified by the succession of each album.  Moreover, Elton John's song lyrics — so often sweltering in pain and loss — was almost entirely the creation of collaborative co-writer Bernie Taupin, who for the most part escaped his songwriting partner's voyage aboard the paparazzi parade branded the Titanic.  Taupin may indeed have projected some emotions onto Elton John, the performer.  But the film's quilting of music and narrative is disingenuous.
To the film's credit, all songs were re-recorded and sung by Taron Egerton, who does quite an admirable job playing Elton John.  Egerton, not widely known before taking this role, was a bold casting decision and he delivers both commanding vocals and convincing performance.  Egerton's challenges cannot be understated.  Other rockstar movie bios usually miss the target, often embarrassingly so, which is tough to hit when the superstar is as prominent a public figure as Elton John.  However, Egerton nails both the incomparable musical demands and the swaggering persona.  Even more impressive, the actor gives a credible performance transforming into the self-destructive rock icon over the span of a decade, meandering back and forth between a joyously contrived onstage performer juxtaposed against the miserable misanthrope left alone in hotel suites with a bottle of vodka and spoon piled with cocaine.
Way too much of the movie focuses on Elton John's continuous slide into addiction — with drugs, alcohol, and sex.  It's an all-too-familiar story we've seen before.  There's nothing new here.  While Elton John's personal problems do make for an empathetic confessional, I'd have preferred greater insight into his songwriting and the creative collaboration between John and Taupin.  The movie cheapens what must have been a grueling artistic process — releasing ten gold albums in just six years — grossly oversimplifying the effort it took to create so many memorable pop songs.  Artistic revelation is reduced to the pianist taking a sheet of paper with lyrics scribbled by Taubin and then composing a near perfect melody within 15 seconds.  Frankly, it's ridiculous.
Audiences may have some difficulty commensurating with Elton John's problems.  By the mid-1970s, the rock icon was reportedly pulling in $85 million a year.  He had everything going his direction — prodigal talent, fame, riches, and the creative freedom to do anything he wanted.  Yet, Rocketman crashes and burns.  Yes, this did happen.  Just don't expect me to be sympathetic.
The film goes to painstaking lengths to convince us Elton John's emotional breakdown was borne out of a childhood void of love.  His parents, who divorced, are reduced to cruel caricatures.  Neither are appreciative of his talent or success.  In real life, Elton John has spoken affectionately about his parents, especially his mother.  A 2013 interview with NPR's Terry Gross on NPR provided the revelation that even when young and confused about his sexual orientation, Elton John's mother was emotionally supportive.  So, either Elton John was lying then in the interview or the filmmakers now have taken their artistic license and run off a cliff.
Rocketman does manage to take its touchiest subject and portray it in a manner so as to be both true to the subject matter while not ruffling feathers of the conventional mainstream.  Portraying homosexual acts on film does pose a serious dilemma for filmmakers.  Whether we'll admit it or not, that remains taboo in cinema.  Unlike Bohemian Rhapsody, which somehow managed to brush the gay Freddie Mercury completely under the rug, this film portrays Elton John's steady romances and flings with credibility, without the exploitation and sensationalism.  Straight men won't wince.
Rocketman has received mostly positive reviews.  Perhaps this speaks to the evergreen nature of Elton John's immense musical catalog.  Or maybe, critics rightly perceive this film biography as honest to its subject matter.  Then, there's Taron Egerton's magnificent performance.  There are things to like about Rocketman. 
Unfortunately, this marvelous musical journey is marred by unnecessary distractions and way too many voids.  By the final scene where Elton John enters the MTV age and performs what turns out to be the self-prophetic I'm Still Standing, a catchy ripoff of Gloria Gayner's mega-hit I Will Survive, we've gained no added insight as to the man behind the glittery glasses nor his music.  Never mind that I'm Still Standing was written years before Elton John entered rehab in 1990 and had nothing all to do with the recovery process.   Like more than a dozen annoyances in this film, the truth isn't bent.  It's broken.
Perhaps the gravest falsehood in the film is an early scene when Elton John is asked by music publisher Dick James what stage name he'll take for his first record.  On a whim, the young pianist says "Elton"……and then "John" as his eyes wander and fixate on a photograph of John Lennon hanging in James' London office.  Fact is, Elton John actually took his stage name from London bluesman Long John Baldry.  So, why lie?
Quoting Elton John, the appropriate description of Rocketman is indeed a sad situation:
It's sad, so sad
It's a sad, sad situation
And it's getting more and more absurd.
It's sad, so sad
Why can't we talk it over?
Oh, it seems to me
That sorry seems to be the hardest word.
MY RATING:  I give Rocketman 3 stars out of 1o.  This film is a pass, even if you're a big fan of Elton John's music.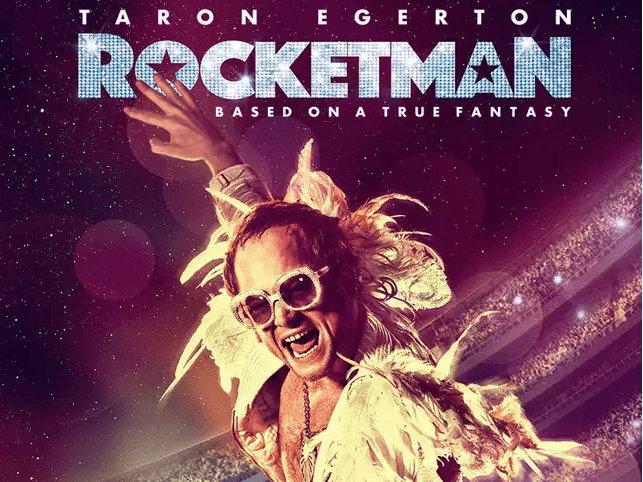 _________
Read More