What Happens When You Lose Your Ticket at Airport Parking?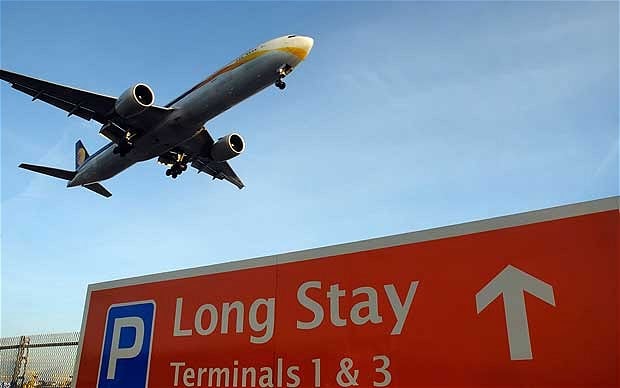 Many years ago, I parked my car at New York's JFK Airport and flew to Europe.  A planned one-week trip rolled into 16 days and by the time I returned to the lot, my parking fee had mushroomed into more than $300 (Note:  I'd arrived late for the flight due to traffic and was forced to park in the closer, more expensive zone).
I wondered to myself back then — what would have happened if I insisted the parking ticket had been lost?  There's a special line for cars and drivers with lost tickets, but I've never challenged the system nor forsaken my obligation to pay what was owed.  Still, I'm naturally curious as to the protocols of how airports know how long you've been parked, and what to charge you for a lost parking ticket.
To be more clear for those who are unfamiliar with the issue, most big airports have multiple parking lots.  The closest lots, near the terminal, are always the most expensive.  Parking at Las Vegas McCarran comes to about $4 an hour.  There are even zones with parking meters.  However, Las Vegas also offers satellite lots, which charge up to $9 per day.  However, the satellite parking requires you to take a shuttle bus back and forth.  This adds another 20 minutes or so (each way) to the trip, plus a tip for the driver if you're carrying bags.
I always park in the discounted parking lot when I travel (unless I'm running late, which happened in New York).  Over the past ten years, I've flown perhaps 60-70 times and many of those trips were for weeks at a time.  I've paid thousands of dollars parking fees.  However, many times upon exiting, I've wondered what would happen if I declared a "lost ticket."
The math seems to make this a +EV move.  If I'm parked for 10 days, at $9 per day, that's $90.  But what would happen is I feign confusion, declare my parking stub to be lost, and try and get a cheaper bill?  With thousands of cars parked for varying amounts of time, how would the airport know how long your car has been present?  Would it be possible to insist on a 4-day trip rather than 9 days, thus saving $54?
I'm not advocating that anyone try this.  Furthermore, it's dishonest.  To me, $9 seems like quite a reasonable fee to pay to park for a day.  However, my experience in New York 20 years ago still bugs me.  Plus, I could really use that $300 that was forked over to the Airport Authority.
Has anyone ever challenged their parking time?  Has anyone ever successfully shaved a few days off the fee by declaring a "lost ticket?"  I'm specifically referring to airports where there is no maximum.  I realize a lost ticket at some lots requires the driver to pay the max.  What about long-stay parking lots?
I'd like to hear stories, which can be posted here or on Facebook.
READ DISCUSSION HERE.