The Great Escape and Bloody Execution of Nicolae Ceausescu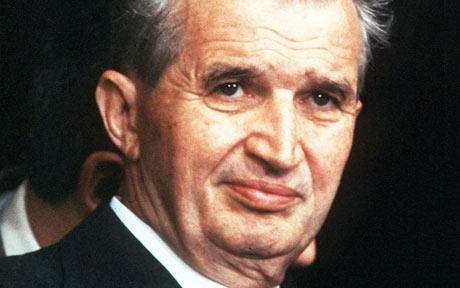 Writer's Note:  This week marks the 25th anniversary of the Romanian Revolution.  This is the first in a serious of articles which recalls my first-hand account of the uprising in Bucharest between December 21-25, 1989.    
Four days after making a dreadful miscalculation and delivering his final rambling speech to a crowd of more than 100,000 stoic sycophants from the grand balcony of the Communist Party Central Committee Building in Bucharest, and while the Romanian nation watched breathlessly on live television, dictator Nicolae Ceausescu and his wife Elena would gunned down by a firing squad on Christmas Day.
Now 25 years later, several questions about the Ceausescu's final days remain unanswered.
How could Ceausescu's iron fist lose its mighty grip on power so quickly and so completely?  How did his situation manage to deteriorate so badly for him?  He'd ruled his nation as a archetypal cult figure for 24 years.  Yet, his body ended up crumpled against a wall, riddled with bullets fired from a makeshift execution squad made up of Romanian Army paratroopers who were hastily assembled at a military base in the small town of Targoviste, just outside Bucharest.
What happened?
This is the story of what I witnessed in central Bucharest during those days which led to the downfall of Communist rule in Romania.
**********
When I woke up from my luxury penthouse apartment overlooking a park in northern Bucharest on the unseasonably balmy morning of December 21, 1989 — I had no idea this day was to be the most thrilling experience of my life.  Nor did I foresee history was about to change, and the lives of 23 million Romanians would be transformed overnight.
And it was mostly due to a fateful political speech and a momentously atrocious decision made by Nicolae Ceausescu to ignore the warning signs of growing dissent within his nation and make one last-ditch attempt impose his unbending will on the Romanian people.
I resided on Strada Nicolae Racota in one of the best neighborhoods in the city.  Assigned to the American Embassy in Bucharest, we were afforded an embarrassing level of comfort that was downright shameful when contrasted with what was typical for ordinary Romanians.  They mostly lived in cramped tenement-like apartments which were dimly lit by 25-watt light bulbs.  That was the maximum energy allowed by all but elite party members.  Against this backdrop of depression and misery, while typical citizens of the capital huddled around gas-lit flame stoves to stay warm during the darkness of wintertime, I occupied a virtual lighthouse perched above the eerie haze of what seemingly were millions of flickering bulbs with the glow of candles.
**********
I walked to work that morning.  The trek took about an hour.  The American Embassy building, then located right in the heart of the city on Strada Tudor Arghezi (it's since moved) was about three miles away.  The considerable distance didn't matter.  I enjoyed walking the streets of Bucharest.  Everything around me seemed like a living museum.  The city was a virtual time capsule into a strange society of a bygone era very few in the West ever got a chance to see, let alone experience as a resident.  As perverted as it sounds now, and as arrogant as it must have been back then, it was kinda' cool to live inside a Communist country.
But I was lucky.  I had plenty of light.  Good food.  I never had to stand in a bread line.
The walk was uneventful.  Everyone inside the country knew there was to be a major speech delivered by Ceausescu on this day.  As I walked down Bulevardul Magheru (some street names were changed after the revolution), I strolled past what we called the "CCC Building."  That stood for "Communist Party Central Committee."  It's where most of the major decisions were made and from where Ceausescu and his hand-picked puppets ruled the country.  The CCC building also had an ornate balcony over the main entrance extending from the second level, overlooking a giant open square that could encase tens of thousands in what became a chorus line of servitude.  This is where Ceausescu gave most of his political speeches, which sometimes lasted for hours.  They dragged on and on.  Ordinary Romanians, mostly workers of the state and some trade unionists, were typically bused into the square and rallied by the party-hack cheerleaders, all instructed to chant and sing on cue and in unison.  These bizarre scenes had all the trappings of a police state, a real life chapter out of Orwell's haunting "1984," some four years afterward.
By 9 am, I was inside the embassy ready to put in another work day.
**********
The American Embassy was an old building that was constructed sometime in the mid-19th century.  It was in desperate need of constant repairs.  One of my many duties was to help maintain the embassy and keep it in operating condition.
We had two annex buildings.  One was a block away, used by something called the United States Information Agency (USIA), presumably an organization intended to promote the American way of life and encourage democracy abroad.  No further comment.  I'll just leave it at that.
Another annex building housed all the supplies that were needed to run the day to day operations of a foreign mission.  That building was located about a mile away, often tough to find amid a maze of cobblestone streets which seemingly hadn't been updated since Medieval times.  On several occasions, I looked for short cuts and often got lost going back and forth between the annex and the embassy.  It didn't matter.  That just gave me more of a chance to venture off and see different parts of Bucharest.
On Dec. 21st, these cobblestone streets became increasingly crowded with marchers pouring into central square.  These workers in the paradise of the proletariat headed off in the direction of the CCC building, forced to march and ultimately serve as cheering extras in a monumental exercise of state propaganda.  Many of them carried signs, each with the same sayings and scripts, betraying the notion that this was a "spontaneous demonstration in support of Ceausescu by the people," as advertised.  Others unfurled giant banners of red with sayings of adoration to the supreme leader and his nearly illiterate wife, absurdly decorated as a great scientist.  They were referred to simply as "he" and "she."  Everyone knew who "he" and "she" were.  Some even hoisted the official "he" and "she" portraits of the Ceausescu's which were taken decades earlier.  The state mandated that the Ceausescu's, even though they were now in their 70's, only be shown as they were in their prime of attractiveness, which had passed a long time ago.
Passing by the marchers, I pitied them.  They weren't to blame.  They were pawns in a much bigger game they couldn't control.  Living in Communist Romania was all about survival and little more.  And these indigent victims of megalomania suffered the most.
Little did I or they know it.  But Nicolae Ceausescu had only hours remaining as the ruler of Romania.  Although the end wasn't yet in sight, the storm clouds of revolution were already beginning to gather.
Coming Next:  Witnessing Ceausescu's escape by helicopter and crashing the gates of the CCC Building.