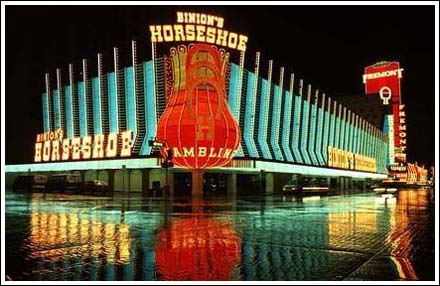 Writer's Note:  This is the second in a series of articles about Chris Moneymaker's stunning victory at the 2003 World Series of Poker and what went on behind the scenes at Binion's Horseshoe — before, during, and after.

Part 1 — War of the Binion's

.
The 2002 Hall of Fame tournament was a disaster.  A colossal failure.  It would be the last Hall of Fame tournament ever held.
Now, you have to understand that the Hall of Fame tournament used to be a really big deal.  Jack Binion ran two major tournaments each year — the WSOP and the Hall of Fame.  The later was done in conjunction with the official announcement of the latest inductee(s) into the Poker Hall of Fame.  Usually a dozen tournaments were scheduled for what was basically a redux of the WSOP.  The winners received gold watches emblazoned with the Horseshoe emblem.
By September of 2002, the Hall of Fame — much like Binion's Horseshoe — had become a shell of it's former greatness.  That final fateful tournament was held downstairs at Binion's Horseshoe — just as it had been during the previous 15 years.  But this time an odd thing happened.  Nobody showed up.  The biggest names in poker, namely Doyle Brunson and Chip Reese were still boycotting the Horseshoe out of their loyalty to Jack, and that undoubtedly hurt attendance.  Some of the tournaments drew a dozen players.  A few events were even canceled.  It was an embarrassment.
Read More